Tired from hiking and climbing in the Dolomites? Tired from a day's skiing in Obereggen? Tired from your experiences and from simply staring?
Dream in our rooms in Deutschnofen in the Dolomites
Then sleep well in the comfortably furnished rooms at the Weber in Deutschnofen. In the morning, the day begins afresh and full of vitality. Let the sun wake you. Another day in the fascinating South Tyrolean mountains awaits!
Our double rooms are equipped with new furniture in natural larch wood, wooden floors, a bath, hair dryer, TV, free wireless internet, a telephone and balcony with breathtaking views of the surrounding Dolomite mountains.
 So why not Book your next holiday in the Dolomites at the Gasthof Weber now?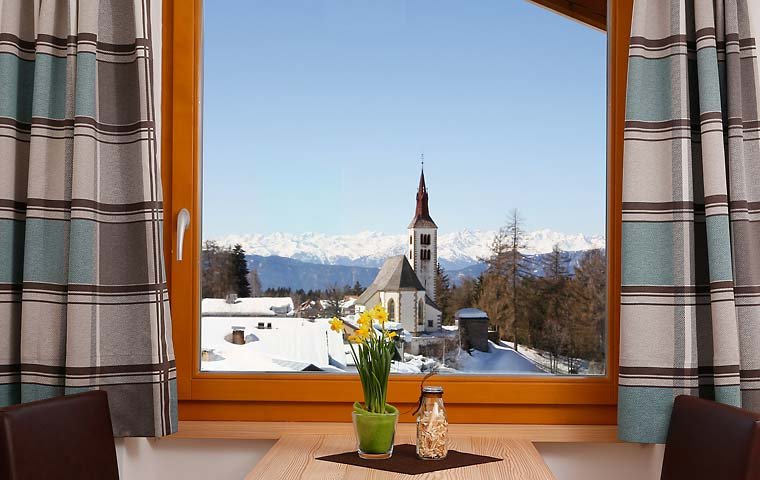 Bed & Breakfast
A
23-04-01 - 23-05-31
Spring
B
23-06-01 - 23-07-31
June & July
C
23-08-01 - 23-08-31
August
D
23-09-01 - 23-10-04
September
E
23-10-05 - 23-11-30
Autumn
A
23-04-01 - 23-05-31
Spring
B
23-06-01 - 23-07-31
June & July
C
23-08-01 - 23-08-31
August
D
23-09-01 - 23-10-04
September
E
23-10-05 - 23-11-30
Autumn
from 3 Nights
€ 60.00
€ 65.00
€ 69.00
€ 65.00
€ 60.00
Price list Half board
A
23-04-01 - 23-05-31
Spring
B
23-06-01 - 23-07-31
June & July
C
23-08-01 - 23-08-31
August
D
23-09-01 - 23-10-04
September
E
23-10-05 - 23-11-30
Autumn
A
23-04-01 - 23-05-31
Spring
B
23-06-01 - 23-07-31
June & July
C
23-08-01 - 23-08-31
August
D
23-09-01 - 23-10-04
September
E
23-10-05 - 23-11-30
Autumn
from 3 Nights
€ 75.00
€ 80.00
€ 90.00
€ 80.00
€ 75.00